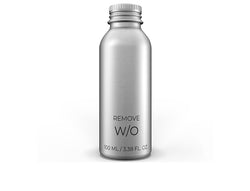 REMOVE
We love products that can multitask, and no skincare routine is complete without REMOVE. It's crucial to relieve your skin of makeup and impurities and REMOVE makes this process effortless while toning and moisturizing. With the shake of a bottle and the swipe of a sponge, you'll be good as new before you hit the pillow or greet the day.
Why you'll love it: REMOVE loves a challenge, and you'll love watching it work its magic. Even the toughest waterproof makeup, dirt, and grim melts cleanly off the skin within seconds, W/O irritation or dryness. You're left with a moisturized feel and the satisfying feeling of knowing you're doing the most for your face. Hint: We don't' rinse.
Includes 100 ml/3.38 fl. oz. of REMOVE

Packaged & shipped in recycled, recyclable, biodegradable materials

All of our products are suitable for all skin types, non-comedogenic and TSA compliant.

This is a food-grade 30-day perishable product, as safe and nourishing as your favorite whole foods.
INGREDIENTS: Hamamelis Virginiana Extract (Witch Hazel)* and Cold Pressed Virgin Unrefined Vitis vinifera Oil (Grapeseed Oil)*
*USDA Organic
DIRECTIONS:
Shake vigorously before applying ¼ tsp onto water dampened SPONGE to remove dirt and make-up. Rinsing optional.