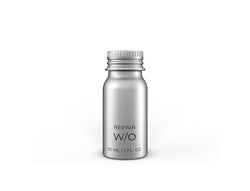 REPAIR
Modern life takes its toll, but that doesn't mean all hope is lost for supple, healthy skin. REPAIR comes to the rescue, reducing skin wrinkles rapidly and significantly. This life-changing formula actually slows the effects of aging, increases collagen and cell turnover, and improves the natural defense mechanisms against oxidative stress. End the day with noticeably healthy and vibrant skin. 
Why you'll love it: We've got the numbers to back up this best-selling essential. REPAIR has clinically proven anti-wrinkle efficacy, as much as 60% improvement in 5 weeks. Its free radical scavenging properties protect skin from environmental sources of aging and wrinkling, with up to an 85% increase in antioxidant protection. Yup, we've done the math, so all you have to do is enjoy the results.
Includes 30ml/ 1 fl. Oz. of REPAIR

Packaged & shipped in recycled, recyclable, biodegradable materials

All of our products are suitable for all skin types, non-comedogenic and TSA compliant.

This is a food-grade 30-day perishable product, as safe and nourishing as your favorite whole foods.
INGREDIENTS: Cold Pressed Virgin Unrefined Rosa Canina (Rose Hip Seed Oil)*, Ubidecarenone (CoEnzyme Q10), Phoenix Dactylyfera Extract (Date Palm Kernel)
*USDA Organic
DIRECTIONS:
With fingertips, massage ⅛ tsp into clean face and neck as part of your PM routine.