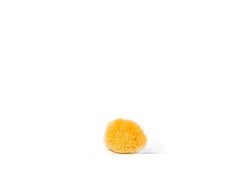 SPONGE
We're big fans of applying product with fingers and eliminating the need for wasteful applicators. But when the situation calls for a little exfoliation, a smooth gliding application, or a bit of buffing, we turn to our favorite SPONGE. Our sustainable 100% natural silk sponges are the perfect size at 2-3". Their texture is ideal for skin exfoliation and cleansing. 
Why you'll love it: Our natural silk SPONGE can hold liquids in lieu of cotton or other materials and is sized to treat the tiniest crevices. It's a multi-faceted, do-it-all tool that you'll love using every morning and evening. It's also completely biodegradable, hypoallergenic, and re-usable. Lasts 3-6 months.
Includes a 2-3" piece of SPONGE

100% natural silk

Care: Wash with chemical-free natural soap.

Packaged & shipped in recycled, recyclable, biodegradable materials

All of our products are suitable for all skin types, non-comedogenic and TSA compliant.