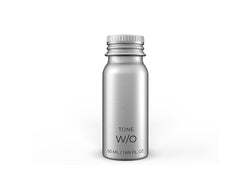 TONE
Rich in vitamins A and C, as well as salicylic acid, TONE is an absolute must for putting your best face forward. Whatever your skin type, TONE has the solution. It intuitively balances oily skin and moisturizes dry and sensitive skin, while soothing abraded and irritated skin. That's what we call "smart skincare". 
Why you'll love it: While some brands require you to buy a different toner for each skin type—and most leave your face feeling dry and stiff—ours knows exactly what you need and acts accordingly. 
Includes 50 ml/1.69 fl. oz. of TONE

Packaged & shipped in recycled, recyclable, biodegradable materials

All of our products are suitable for all skin types, non-comedogenic and TSA compliant.

This is a food-grade 30-day perishable product, as safe and nourishing as your favorite whole foods.
INGREDIENTS: Lavandula angustifolia (lavender) hydrosol*
*USDA Organic
DIRECTIONS:
After CLEANSE, distribute ¼ tsp onto palms, pat face and neck. Allow to air dry.