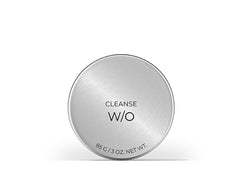 CLEANSE
Your go-to cleanser is here, and it's nothing like your old one. CLEANSE is ready to purify, detox, and exfoliate your skin, and it's gentle enough to use on a daily basis (unlike other cleansers that leave your skin dry and irritated). Scrub it like you mean it to remove dead skin cells, unclog your pores, and give you vibrant, healthy skin.
Why you'll love it: It's a myth that you need harsh soaps, suds, and foam to clean your skin. CLEANSE uses a different kind of formula that works with your skin to create the beautiful results you want. You'll feel the nourishing impact of ingredients like sweet almond, lavender flowers, argan oil, and chamomile. 
Includes 85 g/3 oz. of CLEANSE

Packaged & shipped in recycled, recyclable, biodegradable materials

All of our products are suitable for all skin types, non-comedogenic and TSA compliant.

W/O emulsifiers, ingredients may separate.

This is a food-grade 30-day perishable product, as safe and nourishing as your favorite whole foods.
INGREDIENTS: Raw Honey*, Avena Sativa (Oat) Kernel Meal*, Prunus Amygdalus Dulcis (Sweet Almond) Seed Meal*, Virgin Argania Spinosa Kernel Oil (Argan Oil)*, Evaporated Goat Milk Powder*, Lavandula angustifolia(Lavender flowers)*, Matricaria Recutita (Chamomile Flowers)*
*USDA Organic
W/O emulsifiers, ingredients may separate.
DIRECTIONS:
With fingertips, massage ½ tsp gently onto dry face and neck. Dampen SPONGE with water and massage. Rinse with water. Follow with TONE.