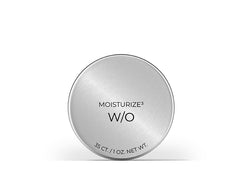 MOISTURIZE³
Let this sink in: Everything you know about soft skin is about to change. This revolutionary approach to smooth, healthful skin starts here. Simple, lightweight cubes dissolve in your palms as you rub them together. Distributing this product to your face and neck, followed by a few drops of ACTIVATE, will coax out a supple, vibrant layer that's been hiding in plain sight.
Why you'll love it: MOISTURIZE³ is so unique that it's easier to experience than to explain. It packs the power of lactic acid, vitamin A, B6, B12, C, E, beta-casein and zinc for nourishment, hydration, and natural UV protection. You'll experience the comforting sensation of increased circulation, a smoother texture, and a soft matte glow that will have you gasping at your reflection. Useful AM, PM, or whenever you need it. 
Includes 30 ml/1 oz. of MOISTURIZE³

Packaged & shipped in recycled, recyclable, biodegradable materials

All of our products are suitable for all skin types, non-comedogenic and TSA compliant.

This is a food-grade 30-day perishable product, as safe and nourishing as your favorite whole foods.
INGREDIENTS: Virgin Unrefined Butyrospermum Parkii (Shea Butter)*, Evaporated Goat Milk Powder*, Uncoated Non-Nano Zinc Oxide Premium Quality Pharmaceutical Grade, Ascorbic Acid (Vitamin C)
*USDA Organic
Melting point of 89 to 100°F
DIRECTIONS:
Soften one cube between palms. Apply to face and neck. Follow with ACTIVATE and massage until dissolved.