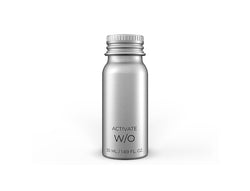 ACTIVATE
Meet your very own multi-tasking skincare genius. ACTIVATE restores skin's natural pH, tightens, tones, firms, and shrinks large pores, giving skin a smooth, photo-ready appearance. With antioxidant, anti-inflammatory, antiseptic, and soothing characteristics, it is the perfect set-up for great skin. 
Why you'll love it: This refreshing second step to your AM routine dissolves  MOISTURIZE³ before your eyes, creating the ooh-and-aah worthy result that keeps our customers coming back for more. Feel the difference as you massage it with your fingertips and witness the transformation unfold. 
Includes 50 ml/1.69 fl. oz. of ACTIVATE

Packaged & shipped in recycled, recyclable, biodegradable materials

All of our products are suitable for all skin types, non-comedogenic and TSA compliant.

This is a food-grade 30-day perishable product, as safe and nourishing as your favorite whole foods.
INGREDIENTS: Ocimum basilicum (basil) hydrosol*
DIRECTIONS:
After applying MOISTURIZE³, distribute ¼ tsp of ACTIVATE onto palms. Pause for dramatic effect. Massage face and neck until dissolved.