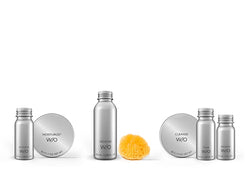 ALL SET
The best way to experience W/O is holistically. The All Set includes a full 24-hour skin health system including CLEANSE, MOISTURIZE³, ACTIVATE, REMOVE, REPAIR, TONE, and a natural silk SPONGE for application. No nozzles, sprays, or droppers. You'll use your hands to work this magic. (Don't worry, it's effective and fun.)
Why you'll love it: The All Set contains everything you need for all day, all night skin health, from morning and evening nourishment to targeted repair and treatments. It comes in a stylish recycled wool bag that's biodegradable. Easily replace items when they're running low and keep them packed securely. 
✈️ Fully TSA compliant, your travel kit is the same one you use at home. No need for duplicate/additional sizes to tote your skincare. Aluminum makes it easy to pack and take with you, without plastic bottle leakage.
Includes CLEANSE, MOISTURIZE³, ACTIVATE, REMOVE, REPAIR, TONE, and a natural silk SPONGE

Packaged & shipped in recycled, recyclable, biodegradable materials

All of our products are suitable for all skin types, non-comedogenic and TSA compliant.

This is a food-grade 30-day perishable product, as safe and nourishing as your favorite whole foods.
ACTIVATE: Ocimum basilicum (basil) hydrosol*
MOISTURIZE³: Virgin Unrefined Butyrospermum Parkii (Shea Butter)*, Evaporated Goat Milk Powder*, Uncoated Non-Nano Zinc Oxide Premium Quality Pharmaceutical Grade, Ascorbic Acid (Vitamin C) 
Melting point of 89 to 100°F
REMOVE: Hamamelis Virginiana Extract (Witch Hazel)* and Cold Pressed Virgin Unrefined Vitis vinifera Oil (Grapeseed Oil)*
CLEANSE: Raw Honey*, Avena Sativa (Oat) Kernel Meal*, Prunus Amygdalus Dulcis (Sweet Almond) Seed Meal*, Virgin Argania Spinosa Kernel Oil (Argan Oil)*, Evaporated Goat Milk Powder*, Lavandula angustifolia(Lavender flowers)*, Matricaria Recutita (Chamomile Flowers)*
TONE: Viola tricolor (violet) hydrosol*
REPAIR: Cold Pressed Virgin Unrefined Rosa Canina (Rose Hip Seed Oil)*, Ubidecarenone (CoEnzyme Q10), Phoenix Dactylyfera Extract (Date Palm Kernel)
*USDA Organic
W/O emulsifiers, ingredients may separate.
DIRECTIONS:
AM 
MOISTURIZE³: Soften one cube between palms. Apply to face and neck. 
ACTIVATE: After applying MOISTURIZE³, distribute ¼ tsp onto palms, massage face and neck until dissolved.
Remember: If you did CLEANSE the night before, no need to wash away all the REPAIR your skin did overnight.
ANYTIME
REMOVE: Shake vigorously. Apply ¼ tsp onto water-dampened SPONGE to remove dirt and make-up. Rinsing optional.
PM
CLEANSE: With fingertips, massage ½ tsp gently onto dry face and neck. Dampen SPONGE with water and massage. Rinse with water.
TONE: After CLEANSE, distribute ¼ tsp onto palms, pat face and neck. Allow to air dry.
REPAIR: With fingertips, massage ⅛ tsp into face and neck.