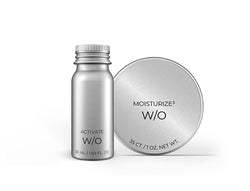 AM SET
An AM set to get you through 30+ days of ALL life sends you.
Includes:
ACTIVATE is a multi-tasking genius. It restores skin's natural pH, tightens, tones, firms, and shrinks large pores, giving skin a smoother appearance. With it's antioxidant, anti-inflammatory, antiseptic, and soothing characteristics, it is the perfect set-up for great skin. 
50 ml/1.69 fl. oz.
MOISTURIZE³ packs the power of lactic acid, vitamin A, B6, B12, C, E, beta-casein and zinc. This is a powerhouse cube to provide nourishment, hydration, and natural UV protection that is encapsulated and ready for activation at application. Feel the comfort and warmth from increased circulation for your skin. Useful AM, PM, or whenever you need it.