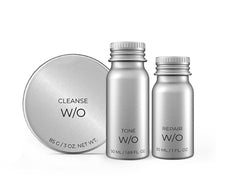 PM SET
Take the day away with the PM set, 30+ days at a time. 
CLEANSE is ready to clean, detox, and exfoliate your skin everyday. No soap, no suds, and lots of scrub to exfoliate the day away, tighten the skin, remove dead skin cells, and unclog pores to give you soft, vibrant and clean skin.
100 ml/3.38 fl. oz
TONE is an absolute must for skin - rich in vitamins A and C, as well as salicylic acid. Balances oily skin. Moisturizes dry and sensitive skin.  Soothes abraded and irritated skin.
50 ml/1.69 fl. oz.
REPAIR and decrease skin wrinkles rapidly and significantly, slow the effects of aging, increase collagen and cell turnover, and improve the natural defense mechanisms against oxidative stress. Top it all of with noticeably healthy and vibrant skin.
Clinically proven anti-wrinkle efficacy (60% improvement in 5 weeks); its free radical scavenging properties protect skin from environmental sources of aging and wrinkling (85% increase in anti-oxidant protection).
30ml/ 1 fl. oz.